Shopping Basket
Your Basket is Empty
There was an error with PayPal
Click here to try again
Thank you for your business!
You should receive an order confirmation from Paypal shortly.
Exit Shopping Basket
ADVOCATES OF THE CAMEROON BAR
SENIOR ADVOCATE:
Chief Charles A. TAKU, Esq. (Head of Chambers)
Lead Counsel, UNICTR
Lead Counsel, Special Court for Sierra Leone, Counsel ICC
Honorary Member of the Law Firm of Angus Gloag and
Jonathan Goodman and Co.
ADVOCATES
Caroline MUNGE TIME
Shufai Blaise SEVIDZEM B
Chief NJI Jerome FOTULLAH
AWUNGNJIA Tetchounkwi
Lawrence LYONGA NGANDA
Publications & Decisions
Post New Entry
THE INTERNATIONAL CRIMINAL TRIBUNAL FOR RWANDA
CASE NO.: ICTR-00-56-T
CHAMBER II

THE PROSECUTOR
OF THE TRIBUNAL
v.
AUGUSTIN NDINDILIYIMANA
FRANÇOIS-XAVIER NZUWONEMEYE
INNOC...
Read Full Post »
By Chief Charles A. Taku
On April 14, day, 40 years ago, the chain of systemic prejudice and cultural genocide broke loose and I was authorized to do pupillage to practice law in the Chambers of the legendary lawyer and politician Hon B.T.B Foretia in Victoria. I was the first in several reg...
Read Full Post »
Follow the link below to read full article:

Click here for PDF version of the judgement.
The preamble of the United Nations Charter, establishes conditions under which "justice and respect for the obligations arising from treaties and other sources of international law" can be maintained for "promoting social progress and better standards of life in larger freedom". To underscore this commitment, Article 1 of the United Nations Charter specifies that collective peaceful measures required for the prevention and removal of threats to peace; the maintenance o...
Read Full Post »

                                                         ...
Read Full Post »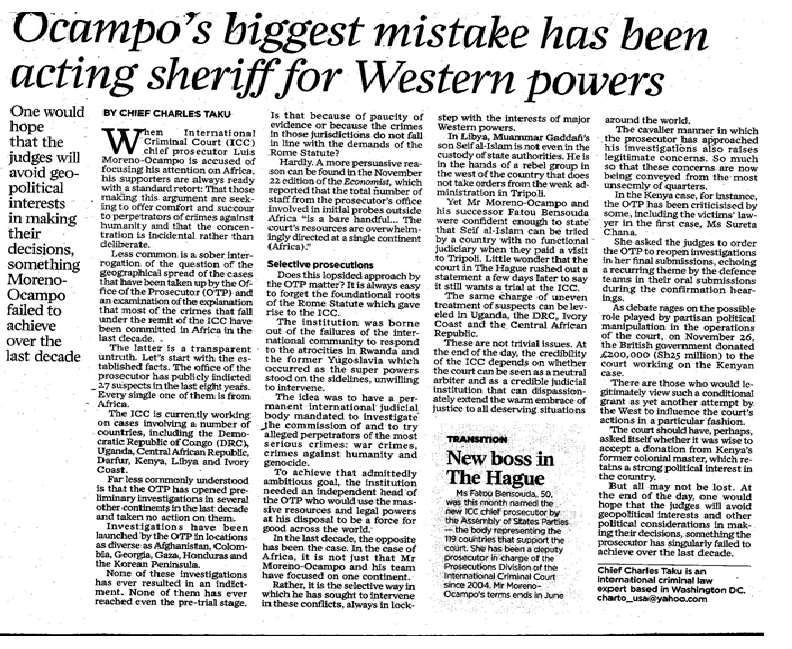 International Criminal Tribunal for Rwanda
Tribunal penal international pour le Rwanda
OR: ENG
Before: Judge Asoka de Silva, Presiding
Judge Taghrid Hikmet
Judge Seon Ki Park
Registrar: Mr. Adama Dieng
Date: 29 February 2008
The PROSECUTOR
v.
Aug-u stin NDINDILIYIMANA
Augustin BIZIMUNGU
Francois-Xavier NZUWONEMEYE
Innocent SAGAHUTU
Case No. ICTR-00-56-T
DECISION ON NZUWONEMEYE'S MOTIONS TO ADDRESS DEFECT...
Read Full Post »
[Here is the cross examination of Gen Dallaire by Me MacDonald, Gen Bizimungu'scounsel, on Thursday, 23 November 2006. One of the disadvantages of postingthese transcripts out of chronological order (in the order which I recieve themfrom Me Black) is that unless you already have a pretty good idea of whathappened in Rwanda between 1990 and 1994, and the role this witness had in it,then this testimony might be a little difficult to follow. To this is added theping-pong of English and French ve...
Read Full Post »
/