Shopping Basket
Your Basket is Empty
There was an error with PayPal
Click here to try again
Thank you for your business!
You should receive an order confirmation from Paypal shortly.
Exit Shopping Basket
ADVOCATES OF THE CAMEROON BAR
SENIOR ADVOCATE:
Chief Charles A. TAKU, Esq. (Head of Chambers)
Lead Counsel, UNICTR
Lead Counsel, Special Court for Sierra Leone, Counsel ICC
Honorary Member of the Law Firm of Angus Gloag and
Jonathan Goodman and Co.
ADVOCATES
Caroline MUNGE TIME
Shufai Blaise SEVIDZEM B
Chief NJI Jerome FOTULLAH
AWUNGNJIA Tetchounkwi
Lawrence LYONGA NGANDA
Publications & Decisions
Post New Entry
By Chief Charles A. Taku
Introduction
Excellencies members of Government and the peoples' representatives of the Republic of Liberia, Excellencies Ambassadors and Heads of diplomatic missions and International Organisations, the Hon President and members of the Governing Council of the African Bar Association, the Honourable President of the African Bar Association and mem...
Read Full Post »
Speaking Points for Video Address to NCBL CLE Program on Representing Defendants before International Tribunals
• Hello and greetings from The Hague, in the Netherlands. I am Chief Charles Achaleke Taku, President of the International Criminal Court Bar Association. It is my great pleasure to be able to address you today as part of this important program on the topic...
Read Full Post »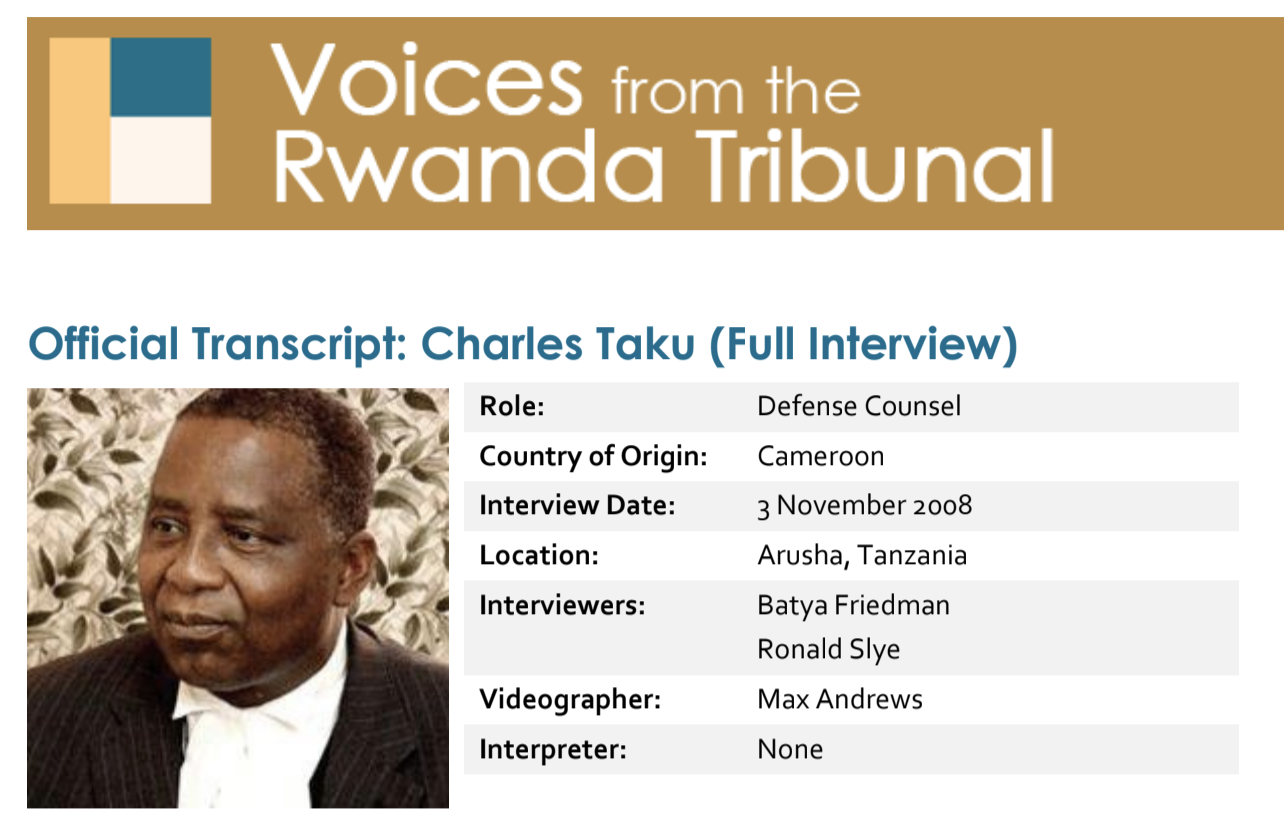 Interview Summary

Charles Taku discusses the failure of the ICTR to prosecute RPF members. He refers to a form of

'judicial genocide' through which Hutu victims are denied justice and the Tribunal perpetuates

violence through impunity. He notes that the...

Read Full Post »

Fidel Castro: Africa has lost a /friend

November 26, 2016

by Chief Charles Taku

Fidel Castro will go down in history as a revolutionary leader who strongly supported the liberation struggle in Africa. The courage with which he withstood and confronted years of intimidation and threats from the gatekeepers of the "might is right" ideology, and on his own terms, insp...

Read Full Post »

Charles A. Taku

Lead Defence Counsel UNICTR, SCSL & ICC

The Marginalized Intruder: Defence Perspectives on Progressive Development of International Justice

Almost 70 years after the Nuremberg trials, the defence in international criminal courts is still treated as a marginalized intruder by the systemic and structural relations within international justice mechanisms.

With the exc...

Read Full Post »

Independence of the Judiciary and security of investments-opportunities & challenges

 

Introduction

Africa is endowed with abundant largely unexploited natural resources and raw materials yet Africa is afflicted by poverty diseases and violent conflicts in the midst of plenty. When these resources are exploited, they are often not exploited for the benefit of the people of Africa.

It is generally...

Read Full Post »

GOOD WILL MESSAGE OF THE INTERNATIONAL CRIMINAL BAR ASSOCIATION TO THE AFRICAN BAR ASSOCIATION ON THE OCCASION OF ANNUAL CONFERENCE TAKING PLACE IN NAIROBLE KENYA ON THE 23-27 JULY 2018 BY CHIEF CHARLES TAKU, PRESIDENT OF THE INTERNATIONAL CRIMINAL COURT BAR ASSOCIATION.

The President of African Bar Association,

Mr. Hannibal Uwaifo,

The International Court Bar Association is please to send its goodwill message to the African Bar Association on this historic Conference...

Read Full Post »

Biya Will Leave Behind Corruption, Chaos – Barrister Taku

Posted: 2:50 pm, August 9, 2010

2

Interviewed By Azore Opio

Chief Charles Achaleke Taku, Lead Counsel at the International Criminal Tribunal for Rwanda and Special Court for Sierra Leone, believes that for Cameroon to avoid bloodshed, Cameroonians and the government alike – should humbly go back to the drawing and carefully craft a sensible constitution if President Paul Biya is not going to leave ...

Read Full Post »

20 YEARS AFTER ROME: BACK TO THE MAJOR CHALLENGES OF

COOPERATION

• Chief Charles A. Taku, Presdient, ICCBA

Introduction

The ICCBA was represented at the conference of 7 November 2018 by the ICCBA Vice

President for the Defence Dr Caroline Buisman. I was unavoidably absent due to my

involvement in an ongoing trial before the court. The report I received from the distinguished

organisers, France and Senegal was that the contributions made at the c...

Read Full Post »

Speech of the ICCBA President

International Meetings of the Defence – 8 November 2018

Excellences, Your most distinguished honors, ladies and gentlemen,

I am delighted to be here in my capacity as President of the International Criminal Court Bar

Association to represent the Executive Council of the Association and all members of the Bar

present in nearly all countries of the world in this Conference. I bring the best wishes from

the ICCBA to all asse...

Read Full Post »

0

/